Introduction
I can't say that the name Alcatel sounds good again and it's worthy of its once great reputation, as it didn't have any. The 100% Chinese-owned manufacturer has announced in Barcelona that they one to become one of the five largest mobile phone manufacturers in three years, for which we wish the best luck, although there are no signs regarding any progress in this matter. The current products, and those announced there are low-end ones, there is no real prestige model, although one would do some good for this plan.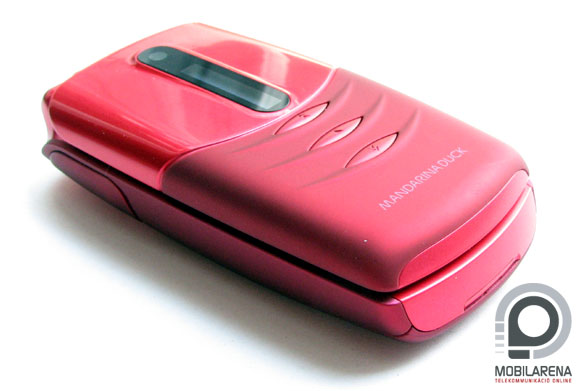 [+]
There are, however, lots of cheap handsets, so these have to be made sellable. That is the reason why they have offered a cooperation for the fashion company called Mandarina Duck, which has bags as its main business. They have agreed to launch a phone together, and the result is now in my hands, as GSM Takács has shipped one of the cheapest handsets on the market, which has no Alcatel labels at all on it. This is a great step in terms of marketability, as no matter how rude is to say this, but the name Alcatel doesn't really bring smiles on peoples' faces around these parts.

[+]
The Chinese guys, however, have chosen a pretty good partner, as the brand Mandarina Duck has got its name from a bird that lives in the area of the river Ussuri that flows on the border of Russia and China. This bird has water-resistant and extremely colorful feathers. The duck symbolizes loyalty and happiness (hooray), but the interesting is that in fact we're talking about an Italian company, that has its headquarters in Bologna. So the subject of our current review is a Chinese phone, that was once French, and now it is made in cooperation with an Italian brand. And it's very cheap. They weren't fussing around very much with the concept, they just simply took C701 and that received a new design.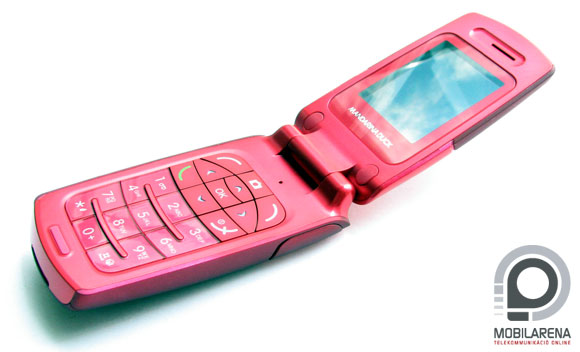 [+]
Box, exterior
As compared with the fact that one could buy this ducky handset for less than €84 EUR, I had a really nice box to open. There is a surprising number of accessories inside, there is a USB cable, a headset, a globe-like something that can be hung on the phone, and there is a belt-tweezers-like thingy that can be connected with the previously mentioned globe, but this doesn't seem like a user-friendly solution.
No matter, here is the phone. It exists in three different colors, besides the violet and green I had the luck to receive the cherry-colored one, although I don't think I had been much braver with the other ones either when getting out of the car. The upper part of the clamshell's front cover has a shiny, glittery finish, so the phone can be seen blinking from long distances.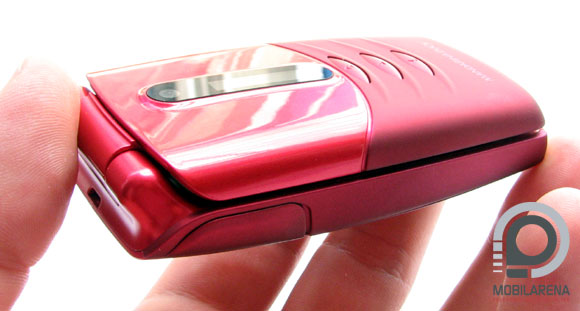 Besides this the front also has three buttons (for controlling the music player), while the shiny surface is split in two at the center by the one-liner, blue-text OLED screen. This is nothing new from Alcatel, as the same has been used on C701 too. There are no buttons on the sides, but there are some small "doors", covering the miniSUB and the headset connector. On the back we can see the Mandarina Duck logo.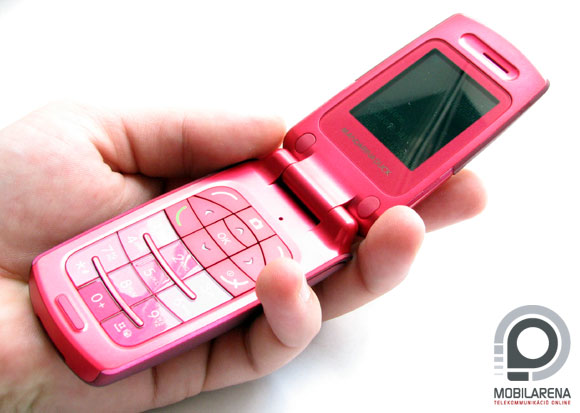 The cover opens softly, but this is no compensation. That's because the keypad is a horror, both in terms of visuals and usability, it's a great example of over-arced design. The numeric keys would be so-so, but what is above them can only be the result of one of the designer's nightmares. A total of 10 keys have been crammed in there, the camera's hotkey is crammed on top of the navigation pad's upwards direction key, which I think is unnecessarily so emphasized in the case of a VGA camera. The whole interior surface is extremely red, if I'd be swinging it around for a while I could become a toreador! The blue backlight for the keypad fits as good as a moustache-frame for Jessica Alba.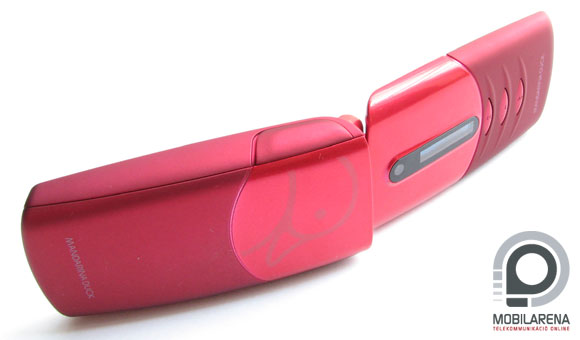 Basic functions
The 128 x 160 pixels large display is no big deal either in size or resolution, but at least it's a TFT. There are four color themes, but if we want to see something from the menus, then we should choose the yellow-black one. The main menu, with its 12 icons, will be a great challenge for users who are used to other kinds of phones, as the dark icons are hard to figure out and we can't always match a function to them without any help. There are, however, no problems with speed; everything happens at once, the menu is fast, we just have to keep focused even on navigation, due to the keypad layout.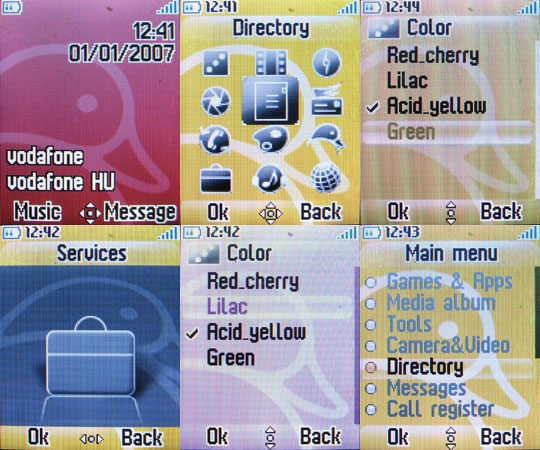 The phonebook is quite all right, we can store 800 entries in it, the groups are on a separate tab, navigating around is easy. The contacts can have three phone numbers, a fax number, email address, birthday, picture and ringtone. Alcatel is one of the few manufacturers who are capable of offering browsing between SIM contacts, immediately after turning on the phone. We can often see, even at renowned brands, a "please wait, initializing SIM card" message or something like that. Another feature characteristic of Alcatel is that the phonebook always opens up where we have closed it last time, which is not a big thing, but it's extremely useful, although only those can understand this who have been using an Alcatel handset for a time.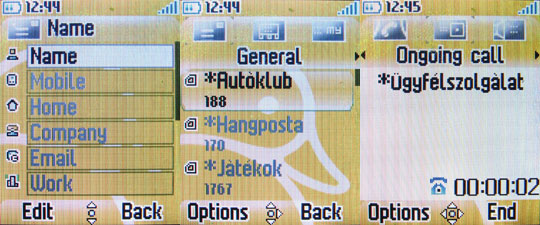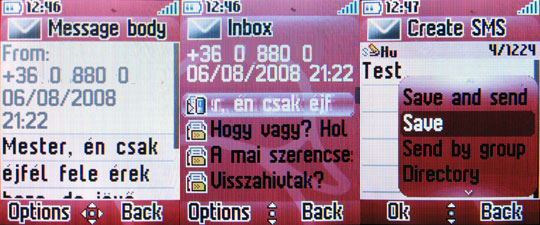 Messaging is rather basic, we have only SMS and MMS. We can store about 500 text messages; with 15 stored SMS messages the memory was 3% full. Word prediction is not T9 this time, but Smart ABC, which might cause us problems, but it can fortunately be turned off. The maximum size of MMS messages is 300KB, which is quite surprising from a phone in this price category. Multimedia content is stored on the 10 MB of internal memory, and I just sit and think if this is really the phone that is sold for €75 EUR in prepay package.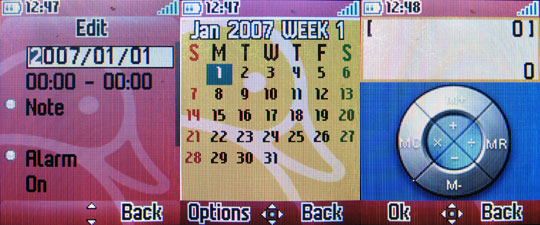 At the calendar we are thrown back to the hard reality, as we only have month view. There is one kind of entry, this can have a duration, a name and repetitive alarm. The alarm clock's five alarm times are more than enough; the calculator's circular graphics remind us of Vertu models; there is a unit converter, but the greatest surprise was with the Dictaphone. I see that it can record directly to the memory card, and recorded length is determined only by free space, but we can even choose what format to record to: AMR or WAV.
Multimedia
We don't have to talk much about the camera, as the VGA resolution is nowadays included in these phones only to be able to write on the box that it has a camera. According to this, exposure is lightning fast, saving the images takes only a moment, but of course there is no flash, while autofocus has only been present in the nightmares of Alcatel's R&D guys. The menu that appears in case of the landscape viewfinder (in this phone? why?) has nice features, but this is absolutely unnecessary for such a performance. And the whole thing is even tricky, as no matter that we see the menu in landscape when taking a picture, the images still get taken in portrait, this can be seen on the blots below, that are called as photos.
In the box we can find a headset too, which has a miniUSB connector. The duck-phone can be charged through this and it also tries to offer some musical experience this way. Of course the headset is no big hit, but it has a pleasant medium quality. Through the speaker the volume is a bit faint, but at least there's no distortion.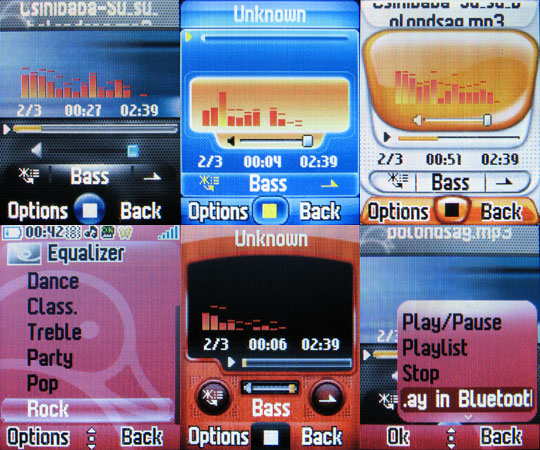 The music player's interface, however, is surprisingly good, it has four views, and there is a realtime spectrum analyzer in all cases to provide some visuals. There are equalizer presets, playlist support, sorting by ID3 tags and the software can run in the background. When closing the phone the currently played file's name is displayed on the external screen (this is funny, and even more, in case of a too long name the software just simply cuts the text and we can see something like AUDIOT~1.MP3), and then there's a short animation for public entertainment. There is only one thing missing (but we miss that a lot), that there are no volume control keys on the phone's sides, so we'll be in trouble when the phone is closed. We can set the three keys on the cover to change the volume instead of changing tracks, but of course we don't have anything to skip tracks.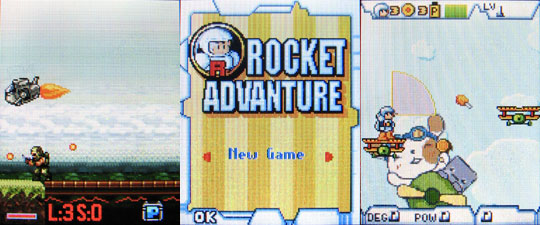 In terms of gaming Java applications are supported, there are two already installed on the phone. In the game called HeliMinator we have a very angular soldier to shoot down helicopters, while Rocket Advanture (the second a is no misspelling, or at least not from us...) is one of the lamest platform games I have ever seen on a mobile phone.
Data transfer, battery
There is GPRS, and I would say that this is all, but here's the surprise: there is stereo Bluetooth support too. As opposed to S853, here they have managed to enable this for data transfer, so one can really think about how much the cost of production of a Bluetooth module is, if it's no problem putting it in such a cheap phone. The browser supports only WAP, but I hardly think that someone would like to browse HTML pages on such a screen.


[+]
The standard USB-miniUSB cable in the box still has some surprises. On one hand it is used for charging the phone, if there is a computer on the other side (the Chinese guys are sending their best wishes for Nokia from us too), and it can also be used for making the small Alcatel work as external storage or as a modem, and the webcam function is present too. If there is some place left where VGA resolution is enough, then this feature is the one.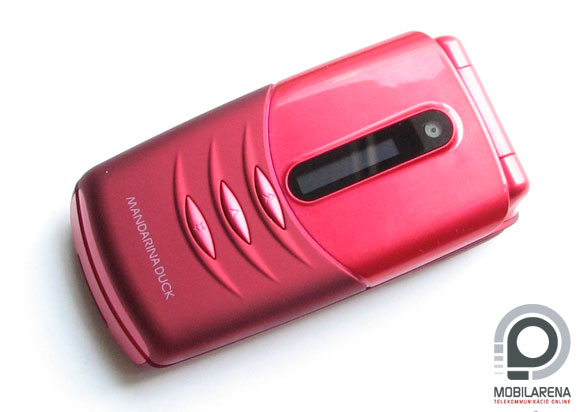 [+]
The battery under the snap-off cover performed as expected, it provide three-four days of uptime for the duckphone. Summary? Wow. This is a cheap phone, it currently costs about €80 EUR at Vodafone. In turn we get a very subjective design, memory expandability, stereo Bluetooth, an MP3 player, long uptime and aggressive colors. If you like the design (and I suppose that the "for women" slogan is very true here), then go for it. As for us it's: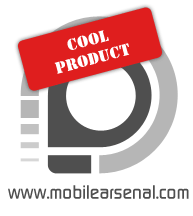 Alcatel Mandarina Duck
Bog
Translated by Szaszati
Alcatel Mandarina Duck has been provided by GSM Takács. Thanks.
The handset can be bought online at www.gsmtakacs.hu.
Specifications
Alcatel Mandarina Duck
General
Technology
GSM
Size
89 x 45.7 x 22 mm
Weight
83 grams
Available colors
violet, green, cherry
Display
Display size
1.8"
Display resolution
128 x 160 pixels
Display type
TFT
Number of colors
65 thousand
Memory
Phonebook capacity
800 entries
SMS memory / max. MMS size
500 / 300KB
Internal memory
10 MB
Memory expandability
microSD
Data transfer
Frequency bands
900/1800 MHz
GPRS / EDGE
Class 10 (4+1/3+2) / none
UMTS / HSDPA
none / none
IrDA / Bluetooth
none / present, 2.0 A2DP
WiFi
none
USB
present
Push-to-talk / RSS
none / none
GPS receiver
none
Basic functions
Profiles
present
Vibra function
present
Built-in handsfree
present
Voice dialing / voice commands
none / none
Sound recorder
present
Alarm clock
present, also when turned off
Predictive text entry
Smart ABC
Software
Platform
Alcatel
WAP / HTML browser
present / none
E-mail client
none
Java
present, MIDP 2.0
Games
2
Currency converter
present
Extra software
-
Multimedia
Main camera
VGA, fixed focus
Secondary camera
none
Video recording
none
Music player
present
Equalizer
presets only
FM radio
none
Battery
Main battery
700 mAh Li-Ion
Standby time
300 hours
Talk time
540 minutes
Other
berry, belt tweezers